Ever wonder why green is seldom used as a hue in seductive attire? Its treacherous past might give us a few insights. Enjoy a short history of the jewel-tone and its origin in Couture.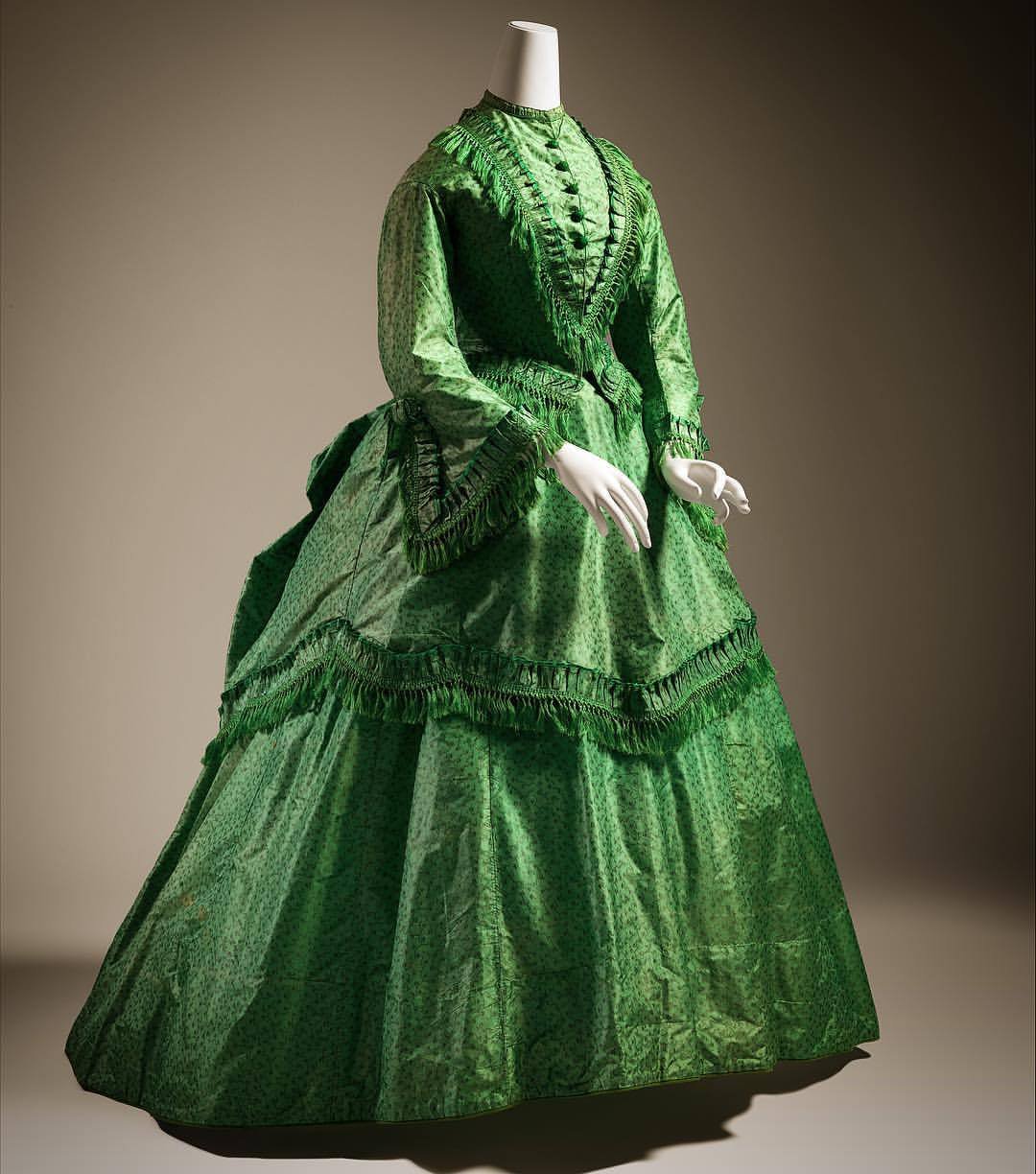 During a recent visit to the Bata Shoe Museum, I came across a lovely display in The Fashion Victims exhibit. Enclosed within a glass case was a full-length gown in a striking green silk. Upon closer inspection, this dress was a classic example of the "Emerald Green" ball gown that is infamous for its toxic dye. The following is an examination of the origin story of "Emerald Green" and the crinoline silhouette of this gown. Although alluring, this dress is deadly, much like poison ivy. Careful, do not become too enticed, lest you become a fashion victim!
The brilliant "Emerald Green" dye in this dress was first invented by chemist Carl Scheele in 1778, who combined arsenic trioxide and copper to achieve the cheap and beautiful hue (Bata Shoe Museum, 2014-2018). Despite its poisonous nature, the "Emerald Green" ball gown grew in popularity throughout the 19th century. The combination of color and silhouette of this particular dress was most popular between 1860-1865 (Bata Shoe Museum, 2017). Dresses from the crinoline era, such as this one, were made of stiff fabrics such as silks or taffetas to add to garment structure and body. One can observe bodice shaping with buttons along the center front for fastening. The skirt features gores, a decorative row of frills, and the waistline is slightly "above the natural anatomical placement" (Marketti and Tortora, 2015). This style also features a high collar with a plunging neckline accented with lace trim. The hoop skirt itself was supported by a cage crinoline. The basic silhouette of the crinoline period "fit closely through the bodice to the waist then immediately widened into a full round or dome shape" (Marketti and Tortora, 2015). This example is flatter in the front, with added fullness to the back of the skirt. As can be observed in the image, the "armhole seams were placed below the natural shoulder on the upper part of the arm," creating jacket-type sleeves that also feature an "inner seam under the arm and an outer seam down the back of the arm" (Marketti and Tortora, 2015).  
This type of dress would have been designed and made in France and/or England. It is believed that Charles Worth is responsible for the revival of the hoopskirt. He is widely considered the "father of French couture," and his designs defined that which was fashionable at the time (Marketti and Tortora, 2015). Originally an employee of the Maison the Gagelin in France, he opened his own establishment in 1858. It is said that Princess Pauline Von Metternich wore his designs to the court of Louis Napoleon III, the emperor of France, and impressed his wife Eugénie, who later became a client of Worth (Marketti and Tortora, 2015). His designs became highly sought after by the affluent, fashion-forward young women of Paris. Such young women would be wives from wealthy households or ladies in waiting at Eugénie's court, for instance. The vibrancy of the dye involved signified wealth and attracted suitors, while inspiring artists and poets. This type of dress would be worn to the increasingly popular masked balls, held by empress Eugénie in Tuileries place, and other significant events in Paris social life (Marketti and Tortorra, 2015). Interestingly, Queen Victoria of England is also said to have been amongst Worth's clientèle. Her majesty defined the role of woman as a "virtuous wife and mother" under her reign (Marketti and Tortorra, 2015). This value system furthered existing gender stereotypes and is reflected in the style of the crinoline hoop dress since "women were being confined inside the steel structure of the hoop," thus limiting their mobility (Marketti and Tortora, 2015). While this style of dress and the color signified wealth, style, femininity and conservative values, it simultaneously reinforced pre-existing notions of the "appropriate" role of women.
Whereas I find the silhouette very attractive and the hue irresistible, I am concerned with how the crinoline era prioritized beauty over safety. According to the British Medical Journal cited in Allison David's Fashion Victims: the dangers of dress past and present, a woman wearing this type of green dress would be, quite literally, a "killing creature" (2015). Although regarded as stylish, her attire would be laden with "poison enough to slay the whole of the admirers she may meet with in a half a dozen ball-rooms" (David, 2015). The dye itself, which contains escharotic, is caustic and can result in "sores, scabs, and sloughing of damaged tissue" (David, 2015). In my eyes, the dye combined with the restricting silhouette is an instance of beauty over comfort to the extreme, and begs the question: why do we care more about being attractive than we do about our health?
Of course, it is possible in our current era to have a similar style of dress in a non-toxic shade of green. I find the lesson behind this color to be one of caution: careful, for although I am beautiful, come too close… and you might end up poisoned. With all of the above being said, please enjoy an early release of my latest photo shoot with the talented Pnpleasure, featuring an emerald lace slip with the calming backdrop of Toronto's own Riverdale park.
Liked this article? Let's talk about it: email me at vivienne.e.lawrence@gmail.com!
-Vivienne xoxo